Social Media Outreach: Series Updates
Hey, all! If you haven't tried out Ultra-Simple Bible Reader and TurboBible for Android, check them out! In the meantime, we've started various series on our Facebook and Twitter outreaches:

- Bible Verse Pictures -- Ultra-Simple Bible Reader (one of our Android Bible Apps) renders pictures of Bible verses. These are verse-of-the-day pictures every Monday, Wednesday, and Friday (6:15 am @ CA-Facebook and 9:15 pm @ CA-Twitter)

- The Identity of Jesus, from John's Gospel -- various quotes and statements about Jesus and characteristics about Him from the Gospel of John (12:30 pm @ CA-Facebook)

- Food for Thought -- evangelistic quotes from theologians, thinkers, etc., as well as various verses throughout Psalms and Proverbs (5:30 pm @ CA-Facebook and @ CA-Twitter)

- Bible Trivia -- various selected verses throughout Psalms (8 pm @ CA-Facebook)

Enjoy! ...and try out USBR and TurboBible!
TurboBible App Now Available (FREE)!
May your commemoration of Jesus' birth be a great time of reflection and blessing. I've been working on a project really heavily over the past 5 weeks or so. Here is the product: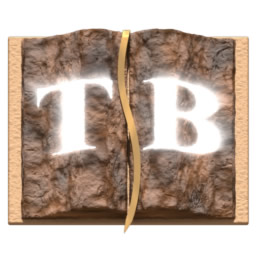 TurboBible (Android)
If you have an Android device, feel free to download the Free App. Tons of features, and extremely versatile. Google Play Store link:
TurboBible
For Bug reports, send us a Message on our Contact Page here:
Contact Us
God bless you, and I really hope you get good use out of TurboBible!
Jesus is Alive and Well!
I'm reminded of old-school evangelism on Yahoo Chat. For a while, my screenname on there was JesusIsAliveAndWell. God did some amazing things, even through Yahoo Chat. What has He done in your life as of late? Are you actively seeing Him do amazing things in and through you? Do you feel overwhelmed with gratitude and joy, or do you feel lacking? Regardless of your current state, there's always room to be intentional about being ON TRACK! Following Jesus is not about dead ritual, and our Savior is most definitely not dead, but Risen!

Jesus is truly Alive and Well. He is seated at the Right Hand of the Father in Glory. He will return in power. He desires for you to draw near to Him, and to see Him do the miraculous in your life. Need Prayer? Let us know! Want to share a Praise Report? Feel free! We're definitely interested in encouraging you in your walk with the LORD and seeing Him do wonders through our willingness.

There is another Webcast tonight, so join us at 8pm Eastern Standard Time! God bless you!
Romans Series
If you haven't been to our Twitter or Facebook outreaches lately, we're doing a series on Romans. Each portion is 140 characters or less, and hopefully the series is a blessing to many. Once it's all finished, there will likely be 500 or more Tweets through the book of Romans. Feel free to retweet, share, etc. to get the Word out! A few are listed here:


"[Jesus] was delivered up for our offenses and raised for our justification." See Romans 4:24-25. Believe in Jesus today!
God provided Jesus as a sacrifice for us "when we were yet without strength" -- in our own power, we cannot achieve salvation (Romans 5:6)
Without faith in Jesus, we stand condemned (see John 3:18). With faith in Jesus, there is now no condemnation (see Romans 8:1).
Stay tuned! As always, if you have a
Prayer Request
, send it our way and we will gladly pray for the matter at hand. If you want to help out with Cross Allegiance in any way, let us know. We definitely are praying for workers to spread the love of Jesus. God bless you!
Webcast Library
Join us for the next webcast on Tuesday night HERE at 8pm EDT, and if you want to catch up on prior webcasts, here you go:


Outreach Images (Work-In-Progress)
I've been working on a few new sections to the website, and hopefully this will be a very helpful addition. On our Facebook and Twitter outreaches, we put out evangelistic pictures for people to see and share. You can now view these images all in one spot, but again, I'm still working on it! Each image has author, website, and license information, and an option to download either a smaller or full-sized image.
For a sneak peek, check here: Outreach Images (Work-in-Progress)




Need Prayer?


Submit a Prayer Request!
About Cross Allegiance
Cross Allegiance is a ministry focused on spreading the good news (Gospel) of Jesus Christ in various creative ways, involving our everyday talents to illustrate His character as revealed in God's Word. We believe that all people need to put their faith in Jesus for forgiveness of sins and the inheritance of eternal life in Heaven. If you don't know Jesus yet, please consider that seriously. God loves you too much to ignore, and it's worth every bit of the sacrifice involved to follow Jesus in this life. Sow to the Spirit, and reap eternal life! Walk with Him through life -- you will never be the same, and you will never regret it. Know Jesus? Great! Let's seek revival through personal holiness, devotion to the Word and prayer, and most importantly, a deep love for God and others.
Tweets by @CrossAllegiance